Welcome to Skyports London Heliport
Skyports London Heliport (SLH) is conveniently located 5-minute drive from Canary Wharf and 20-minute drive from the City of London.
Essential Information for Pilots
Operating Hours
Operating Hours
Monday to Friday 08:00 – 19:00 (minimum of 4 hours' notice required)
Saturdays and Sundays 09:00 – 17:30 (by prior arrangement 24 hours' notice)
It is required to make an advance booking to use the Heliport.
Public Holiday by arrangement
The Heliport may also be used outside of the normal hours of operation, at an additional charge.
(Excluding Easter Sunday & Monday, Christmas Day, Boxing Day and New Year's Eve)
Improvements at Skyports London Heliport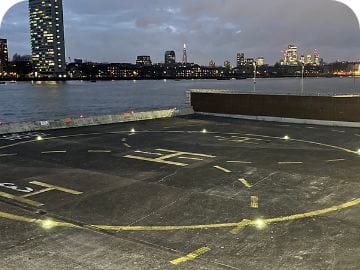 Where We Are
Skyports London Heliport
188 Westferry Rd,
London
E14 3RY
Lat / Long:
5129.26N 0001.31W